Yesterday I took part in
Pedal For Pounds (North)
, a 50 mile charity bike ride in support of
Yorkshire Cancer Research
. Four of my colleagues (Deric, Mark, Paul and Tim) also took part in the ride and it was good fun, but it was also very hard work.
A few of the guys at work have done some long rides in the past few months ranging between 30 and 60 miles but don't really cycle very often. I also completed a 110 mile bike ride from Wakefield to Bridlington with Tim and his friend Ian just a few weeks ago. This 50 mile charity wide was harder than that 110 mile ride to the coast!
I started off by riding the 18 miles from Wakefield to Harewood (north of Leeds) at 7am. Arriving in Harewood just before 9am and meeting my colleagues to start the charity ride. The ride through to Harewood was pretty easy going except I wasn't expecting there to be a four mile climb coming out of Leeds!
With so little information available to us prior to the event we did not know what sort of route the ride would be taking us on. Within the first 10 miles however, we knew this was going to be a very hilly ride, which we were not really prepared for.
I'm writing this post mostly to get some information on the internet about the ride and to help prepare any budding cyclists for what is to come. I tracked our progress using
RunKeeper
so I'll share this data here.
First up, here's a map of the route. The 25 mile route covers the loop to the east before breaking off and heading back to Harewood. The 50 mile route continues to the west and back round to the north of Harewood.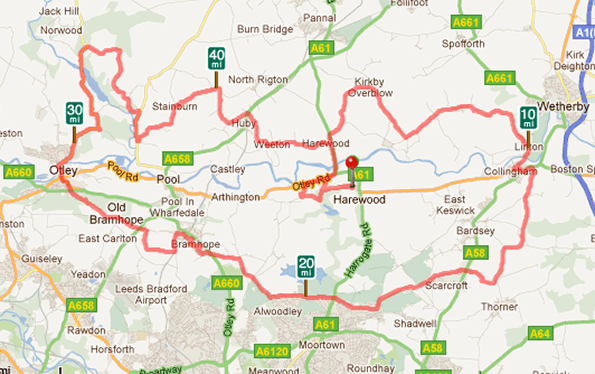 The route doesn't look too bad, and even looking at the elevation on Google Maps before the ride it didn't look that bad either. But here's the elevation (and speed) graph:

You can see from the graph there, even if you're doing the 25 mile ride you've still got some pretty big hills to climb though at the 20 mile mark you are higher than the start so the remaining 5 miles would be a nice downhill ride back.
The low point on the graph there is 83 feet, and the high points (27 and 35 miles) are 775 feet. So the ride from the 10 mile mark to the 27 mile mark is basically one massive hill that rises 775 feet. What makes it worse is that there are some very steep parts mixed with some nice long slow hills. The steep hills are so steep you need some very low gear into which you can switch and just steadily pedal yourself up them. In any higher gear you'll make it up the first 10 feet and have to stop. So my advice to anyone wanting to do this ride is to be prepared and be ready to use your lowest gears on the hills. Just look at how rapidly the elevation increases from 33 to 35 miles. That was literally 2 miles of very steep hills. The ride from there wasn't too bad as you were past the worst.
...Until you get back to Harewood, and you're having a nice enjoyable ride through the park before hitting a very long steep hill. You know this is the last hill before finishing but it's so hard to push yourself up it (unless you've taken my advice and used the right gears all the way).
The ride was enjoyable for the most part, a few of the hills were very hard to get up and I'm sure if we had known more about the route prior to the ride some of us might have decided not to even try it. I hope all involved had a good time and feel better for having completed such a hard ride.
I'll definitely consider taking part next year but will be more aware of my gear choices to make sure I don't tire myself out on every hill next time!
If you'd like to look in more detail, please check out my
RunKeeper page for the ride
.
If you'd like to donate to Yorkshire Cancer Research, please do so via our Just Giving page:
justgiving.com/wrmmedia
Thanks :)
If you found this post helpful please leave a comment below: