This time round I had intended to try out one of my old Doom 3 maps with Doom 3 BFG but after downloading it and dropping it in to the game directory I came up against a couple of problems.
Firstly I couldn't access the console, a quick Google search showed me how to do that from command line. Then on loading the map it gave me an error due to incorrect format of a monster model in the game.
I then read a little more about this issue and apparently all the assets were changed quite significantly in Doom 3 BFG so if you're including rag dolls and monsters in your maps they'll no longer load in Doom 3 BFG (but would still work in Doom 3 (which currently doesn't have OR support).
So I decided I'd just have a play of Doom 3 and try recording it with FRAPS to see if it'd capture at a fast enough frame rate to put up a video for fellow Rift users to view. I'm quite happy with the resulting video, it shows approximately 15 minutes of footage not far from the start of the game. There are a few particular moments that look pretty cool. Some of the objects in the maps are quite detailed when looking at them in 3D and when you're confronted by enemies from all sides it can be quite intense.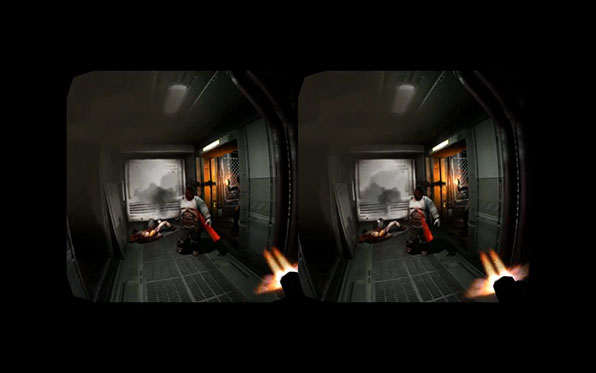 Please check out the video and let me know if you could watch it with your Rift on. It's saved out to MP4 format in 1280x800 at 60fps (or as best FRAPS could handle on my iMac).
Doom 3 BFG - 1280x800x60.mp4
I've also uploaded the video to YouTube too but since YouTube doesn't properly support 1280x800 or 60fps video I'd advise people to download the original video linked above and try that in your favourite video player.
If you found this post helpful please leave a comment below: