My Oculus Rift turned up a couple of days ago and I got it all set up and played around with it for a while yesterday morning.
The Rift itself is pretty easy to set up, the control box attached to the headset has power, USB and HDMI connections which all need plugged in and then you switch it on. The PC (or in this case my iMac running Windows 7 via bootcamp with an HDMI->DisplayPort adapter) will auto switch to 1280x800 and mirror the rift screen to the monitor.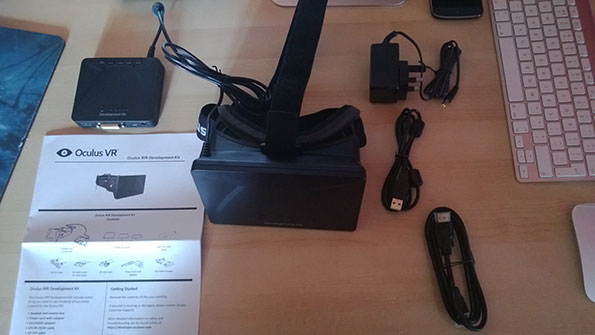 I was a little disappointed when loading up HAWKEN only to find out that official support hasn't even been released for the game yet despite it being used in demos for the technology prior to these developer kits shipping.
So I had a little look around to see what I could play with it. First we tried the Oculus World demo, included with the SDK. This is a small virtual environment depicting a house in Tuscany by the sea. It immediately gives you a sense of the depth when moving about the house and looking at the branches and leaves on the trees.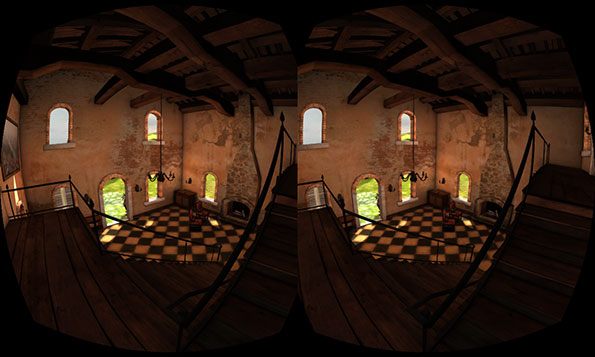 My Wife and our kids all had a little go and all loved it too.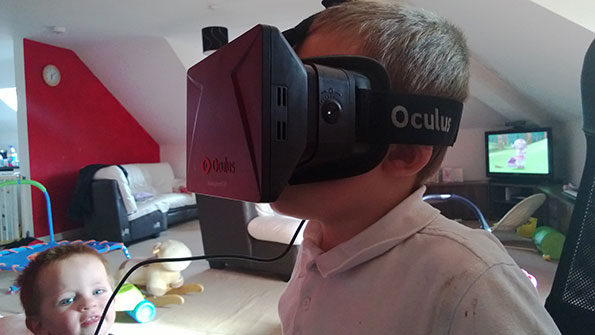 The very low resolution (1280x800 split between both eyes) of the Rift is immediately noticeable but the real sense of depth really does make up for it. The head tracking in the Oculus World also feels quite natural and it's cool looking around inside the house.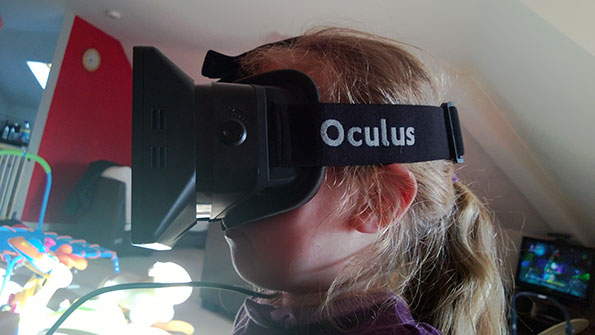 A little bit of Googling revealed that Half-Life 2 has recently got official beta support for the Rift too (literally just a couple of days ago). So I quickly installed it via Steam, added the -vr command line option and joined the beta. I played about the first five minutes of the game and I have to say it's totally amazing! Walking around quite restrictive environments is perfectly suited to VR. I actually think that's much more fun than looking at wide open surroundings since you get a real sense of 3D when walking in buildings.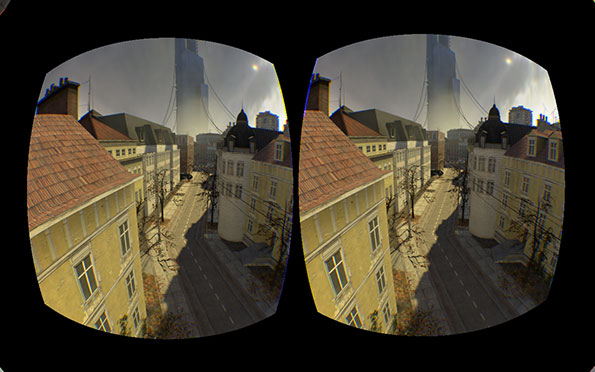 The characters in Half-Life 2 look particularly amazing. Opening the door and being greeted by a guard as he walked me down the corridoor was such a completely different experience when I could walk around him and see him in proper 3D from every angle. Then talking to Barney and walking around to check out his armour and face, makes the detail look so much more impressive when you see it this way.
Unfortunately a few minutes in to the game I began to get a little bit motion sick. There's a part where you drop down from a fire escape having climbed over a wall, that felt odd, then escaping the combine there were a few moments where I was running fast and turning corners which felt weird.
I turned the Rift off for a while and had a rest as the documentation with the Rift said you should discontinue immediately if you experience any motion sickness. A few minutes after removing the Rift I felt a little nauseous, which lasted about half an hour. I knew I had not properly calibrated the Rift to my eyes though and put it down to that.
A couple of hours later I fancied having a go on Mirror's Edge which is supported via a 3rd party driver (
http://vire.io/
). This was fairly easy to get up and running and after loading up Mirror's Edge I had it running in VR with the Rift.
Again, I played about 5 minutes and got all the way through the training missions at the start of the game. There were four or five points where I felt stomach turning moments as my brain was not seeing what it expected to see but overall it looked pretty cool. Sliding under obstacles and climbing over fences felt very different in VR but for the most part it felt pretty much the same as playing it normally.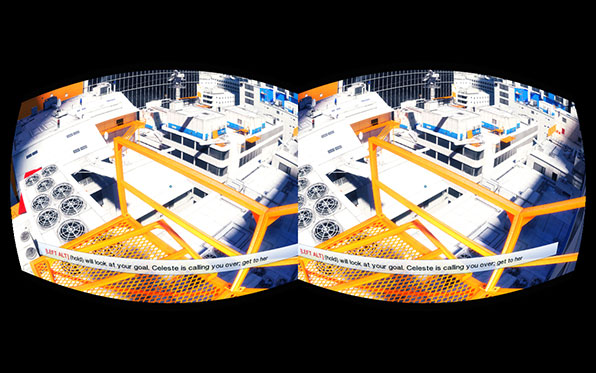 This time however after removing the Rift I felt nauseous again but worse than before. Not so much that I felt sick but I didn't feel right. This feeling lasted all day, right until I went to bed which was some 10 hours after using the Rift!
I have now been reading about motion sickness and nausea with the Rift however and believe with a combination of proper calibration and slowly introducing myself to the Rift I'll be able to get over the nausea I'd experienced.
IPD (Interpupillary Distance) is apparently the most important thing to get right with VR. It is determined by the distance between your pupils. If the virtual distance between left and right cameras in-game differs from what your eyes are expecting to see then it can strain your brain and induce motion sickness and nausea.
The documentation also states that you may experience this at first and to limit yourself to short sessions. Over many short sessions you will be training your brain to expect to see differently when wearing the headset and the motion sickness and nausea symptoms should go away with more use.
So today I'm going to try out Team Fortress 2, some more Half-Life 2, and see if I can adjust the settings in Mirrors Edge and maybe try Dear Esther too, I'll write up my experience on Day Two tomorrow.
If you found this post helpful please leave a comment below:
Gerald / 2013-05-12 15:00:19
Too bad you got the motion sickness so early on. Really curious to learn how changing IPD settings will help you with it.
Can't wait to try Half Life 2 myself :)
PP / 2013-05-13 13:48:59
If you are interested in smaller demos you can find many here https://developer.oculusvr.com/forums/viewforum.php?f=42

Btw TF2 and HL2 seem to have a small issue https://developer.oculusvr.com/forums/viewtopic.php?f=42&t=957&start=60#p10320 it seems not that devasting since people play it anyway, but maybe they will fix it soon. (Also you will probably have to configure your ipd in tf2 and copy the config file, I think hl2 doesn't has the tool yet.)
Martin Caine / 2013-05-13 14:03:38
Thanks, I'll have to check those out. I did play some more TF2 and HL2 yesterday with the tweaked settings and it felt better. I shall be writing up my experience from day two later today after work (and then trying some more for day 3 :)).
yag / 2013-05-13 16:11:35
Hmm maybe Mirror's Edge is not the game to play the first day (especially since it's no native)
SlinkyFISH / 2013-05-15 23:14:39
Want to have a go myself! Looks pretty cool - I remember when the 3DS came out, there were calls of headaches and nausea from that (look where it is now with sales!), dread to think what'll be said when this is released :P

Is the release version going to be in HD?
agun / 2013-05-22 21:08:04
I wonder if playing with the rift on a ship would negate the sickness. Like some kind of double negative.
agun / 2013-05-23 02:35:58
I wonder if playing with the rift on a ship would negate the sickness. Like some kind of double negative.
Adam / 2013-08-27 18:19:24
My advice is try something where you're in a cockpit or not moving too much to begin with. I had the same problem but when I tried Titans of Space and Blue Marble it was a different story. Those are relaxing and awesome and non-sickness inducing!