Today I was torn between trying Hawken or Doom 3 BFG but I went with the latter as it's one of my old favourites. The BFG version of Doom 3 includes slightly improved visuals over the original, extra missions that never made it in the original release and a few other extras (like stereoscopic rendering) which make it perfect for the Rift.
Unfortunately, when John Carmack originally added Rift support in to the game the SDK was completely different. It was all hard coded to work with the original prototype units and doesn't work correctly with the new Developer Kits. Since the source is available however some clever modders have taken it upon themselves to put the Oculus code back in to the game and have released the binaries so we can use them in our Doom 3 BFG installations.
After copying the files over make sure to edit your oculus config file. I entered my IPD (obtained from vr_calibration in TF2) and left all other settings at their default. Loading the game up, I set my options, put it full screen 1280x800, turn on anti-aliasing and start a new game. I notice during the opening cutscene that I can move the camera with my head movements. This is pretty cool and I don't remember being able to do this with the mouse before so it lets you see the cutscene from different angles: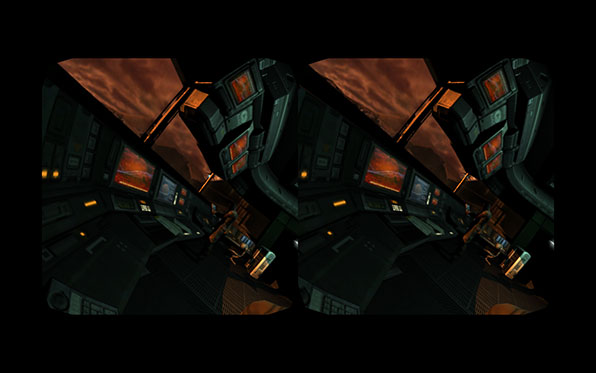 After the cut scene has ended you get dropped off in the landing bay, I still remember the first time I saw this, it looked absolutely amazing and ran at about 10fps on my PC which wasn't even that bad at the time!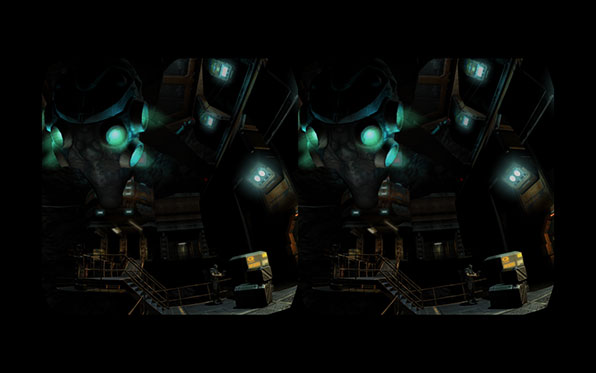 I head up the stairs for my security check and was quite impressed by the detailing on the walls, it was the first thing I'd seen in the game that looked proper 3D.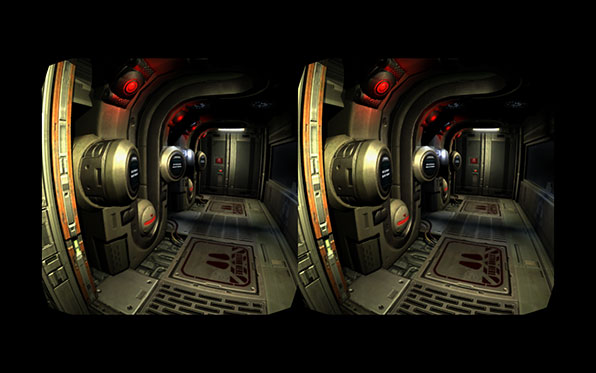 I liked this part when being instructed by the guard to stand on the pad and be scanned. I like these parts in games which force you to do something while some cool stuff goes on around you.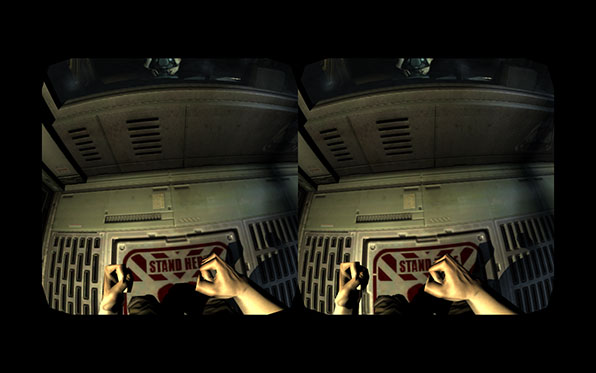 Next I had a wander around and looked at everything I saw. People looked pretty cool (but not as good as in Half-Life 2) and there are plenty of screens to interact with along the way. Something that was rarely used in games before Doom 3 and it did it so well. The level of interaction on some of these virtual screens in games still hasn't quite been matched in many newer games. The best game I've played to use this kind of mechanic is the latest Deus Ex: Human Revolution in which you can also interact with computer screens without moving from the player's point of view.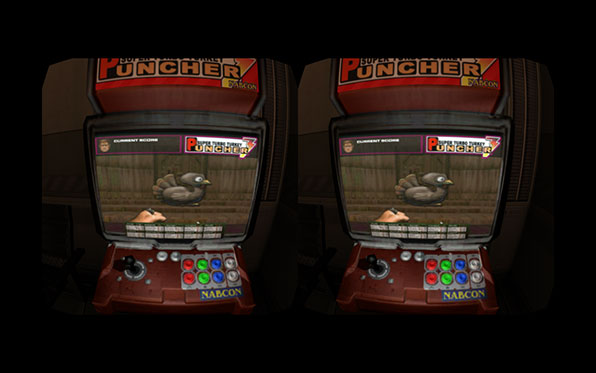 As I walked around I noticed how flat most of the walls looked. The problem however is that Doom 3 was one of the first games to make extensive use of normal mapping on surfaces. Thus you have an entirely flat geometric plane but apply a texture to it to make it look as if light is hitting it from certain angles to give it depth and make it look 3D (on a 2D monitor). When this technique is applied in stereoscopy however you're seeing the normal mapped texture from different angles and can clearly see the surface is flat. This next shot is a perfect example. Look at it on a monitor it looks pretty cool with chunky walls and that big chunky door. But seen through the Rift it actually looks a bit flat and boring.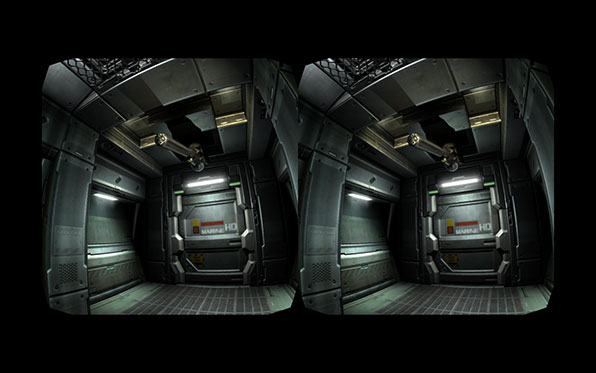 Next up I talked to the commander, and started to feel a little bit of motion sickness as the cut-scene cameras took over. The problem here was the cameras are supposed to point at some object while in the cut-scene and may switch many times from one object to another, but with tracking turned on I often found I was just seeing a wall or a floor and had to turn to see the person talking. I think it'd be good if the guys making the mod could maybe lock the camera to the player in certain cut scenes as it really did feel odd with the camera going all over the place. Next I was instructed to follow one of the little robots, this did look pretty cool and proper 3D right infront of me as it scuttled along.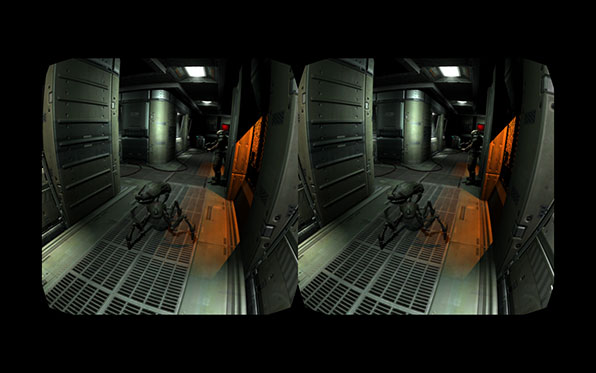 I quit here but will play some more tomorrow and report on some actual gun-play. It's not long in Doom 3 before all hell breaks loose (literally) so I'm looking forward to that. It's a shame that a technique once used to add so much detail to the game with the awesome shadowing and normal mapping now makes the game look flat with the Rift. I think this and Half-Life 2 I will likely play to completion just to say I've done it (again, but this time with the Rift).
If you found this post helpful please leave a comment below:
Ani / 2013-05-20 11:49:12
I wonder, for the normal mapping issue, if the use of parralax mapping with a heightmap would solve the issue for the rift...
PatHightree / 2013-05-20 15:30:43
I was thinking exactly the same thing, parallax mapping would fix this shit right up.
Provided that they still have the source height maps.
Also, parallax mapping is more expensive to render. But that shouldn't prohibit an older title like this from running well on the Rift.