About ten years ago I came in to possession of an absolutely amazing Charvel 375 in Desert Crackle finish, it was super smooth to play and sounded great. Out of all the guitars I owned it was easily my favourite. In the early days of Facebook I founded the first group
dedicated to Charvel
(September 2007). That group is still going strong right to this day and has recently had a surge of new members due to increased popularity of the brand in recent years, and will soon be approaching 7000 members.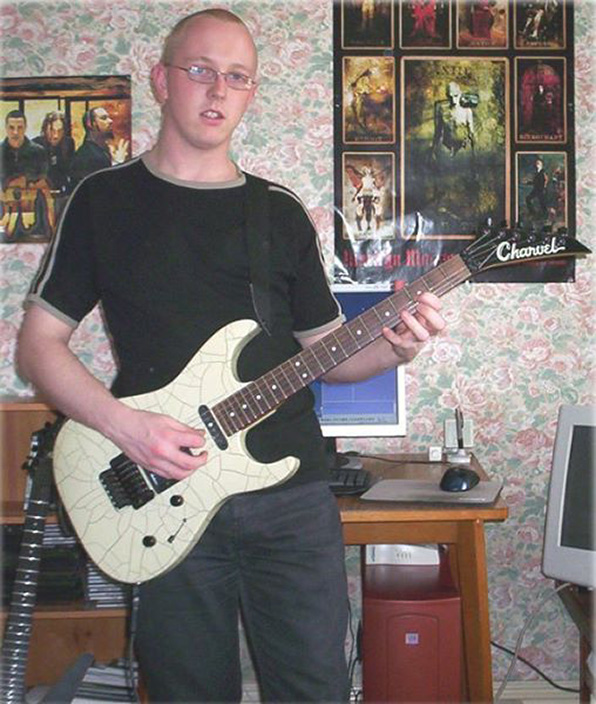 Unfortunately, a few years ago I had to sell my 375, it was a hard decision to make but we needed the cash when things were tight and I sold a few guitars, just keeping two (my Ibanez DTX-120B and my Ibanez S7420). So Here I am, founder and head admin of the largest Charvel fan page on Facebook, and I didn't even own a Charvel myself!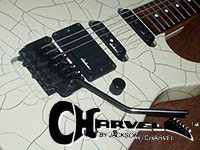 Last year Charvel released a new range of 80s inspired shred machines under the
Desolation label
. The Desolation Soloist DX1-FR in particular piqued my interest and I was seriously considering buying one. They were even heavily discounted at Christmas (down from £600 to £350 in some shops) but I resisted and instead spent that on yet more Christmas presents for my (five) kids.
But then we found out early this year that Charvel were to discontinue the Desolation models. Something which I'm surprised at since everyone that posts their experience with them in my group says just how awesome they are for the price. Around the same time (NAMM 2015) I was seeing people posting up pics of their Pro Mods and in particular a few people sharing photos of the Super Stock models. These Super Stocks were limited run models which differed in spec from the standard Pro Mods and had limited edition finishes. One in particular caught my eye, the
Super Stock SD1-FR in Orange Flake
.

I like orange. I wouldn't say it's my favourite colour (as I like quite a few) but in recent years I've grown fond of orange and the SD1-FR also had a maple fretboard. I've been wanting to get a maple fretboard guitar for some time but never saw one I really loved, until now.
So, I was looking up information on the SD1-FR and found that there were only a very small number still available here in the UK. My Wife saw me looking and asked if I wanted one, I said I did but I knew it'd be tight paying for it just after Christmas. We worked out how much we'd have spare if we bought the guitar (at £670) and figured out it would be tight this month but we could afford it.
By this point one of the stores selling the guitar had sold their last unit and it looked like only
GAK
had one in stock, so I was looking on their websites to see how much shipping would be. Then, the next day I had an email from Mike at GAK telling me if I wanted the guitar I should phone to order it instead of using the website, and that he could offer me a slight discount too! He managed to knock £30 off the price, down to £640, so my Wife phoned up and paid a deposit of 10% to reserve the guitar then we waited for pay day (the 25th) so I could pay off the remaining balance.
Pay day came and we paid for the guitar and it was shipped the same day. the guitar arrived (at home) while I was at work, and my Wife teased everyone on the Facebook group sharing a photo of the box.
The first thing I did when I got home from work was open it up and had a quick play!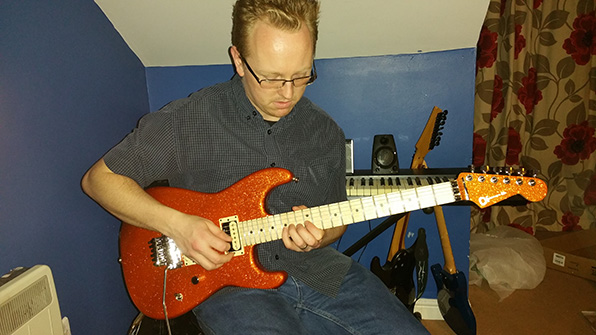 Immediately I noticed how heavy the guitar was. I've got so used to playing my two Ibanez guitars that the Charvel really feels heavy in comparison (my DXT-120B has a very small body, and the S7420 has a very thin body (however it's a 7 string and is made of mahogany, but is still nowhere near as heavy as the Charvel). The added weight really makes the guitar feel 'solid' and it feels good on the strap, not overly-heavy.
The finish on the guitar is immaculate and looks great from all angles. It's bright and sparkly under the lights but in a dimmer setting it looks much darker (since the sparkly bits don't reflect as much). The neck is slick (as I remembered from my old 375) and the fretboard is perfectly flat and super smooth (I'm used to rosewood fretboards and it's been a while since I last played a guitar with a maple fretboard).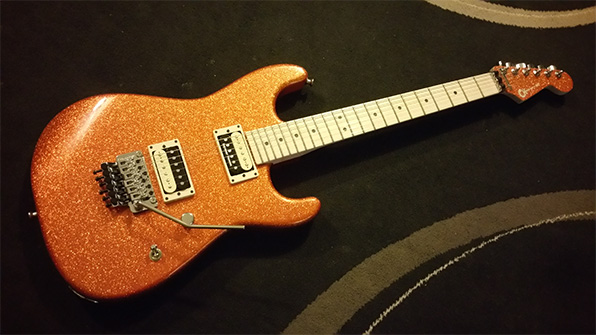 One thing I was a little worried about, was how the photo of the SD-1 on Charvel's own website seemed to show a skewed Charvel logo on the headstock. I thought it looked very strange and had seen this photo all over the internet. As I expected though the actual headstock doesn't match the one on the Charvel website and the logo placement looks perfect: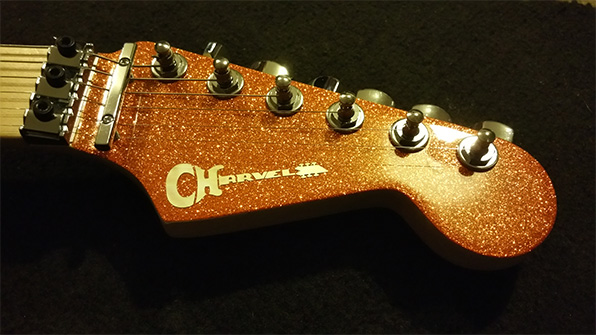 I soon realised that the presets I had dialled in to my FloorPod weren't suitable for this guitar (my two Ibanez guitars both have active EMG pickups, a pair of 85 in my 6 string and 707s in my 7 string) so I tried a few of the clean amp sims first. The tonal differences between the two pickups (Seymour Duncan '59 and Seymour Duncan JB) are like night and day. One super clean and crisp, the other totally smooth and fluid. I played around with each and a few different settings before applying some gain and using one of the high-gain amp models. Even with some heavy distortion applied you can still hear the clear difference between the two pickups and I'm very impressed with these, having never really owned a guitar with Seymour Duncan pickups in it before.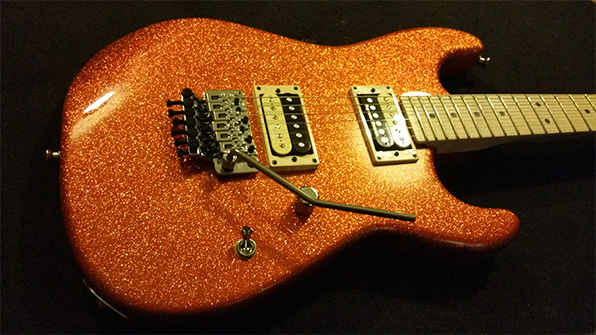 I have to admit that I've had my S7420 bridge blocked for the past few years, growing tired of endlessly having to set it up again every time I wanted to try different strings or tunings. I've grown used to not playing a tremelo-equipped guitar. I did notice that even a small amount of pressure on the bridge was enough to send the pitch wobbly, so found a better resting position for my palm muting and started having a play with the trem'. I noticed when diving with the trem there was like a little creak coming from the guitar, I soon realised it was the neck pocket and the neck wasn't fully seated. I thought this strange for a 'new' guitar, but tightening the four neck-plate screws quickly fixed the problem and it was then super stable. I've also never had a guitar with a top mounted Floyd, so that's something new to me. Going to have to remember I can't pull up on the thing but I'm definitely going to re-train myself to use the trem for those cool effects.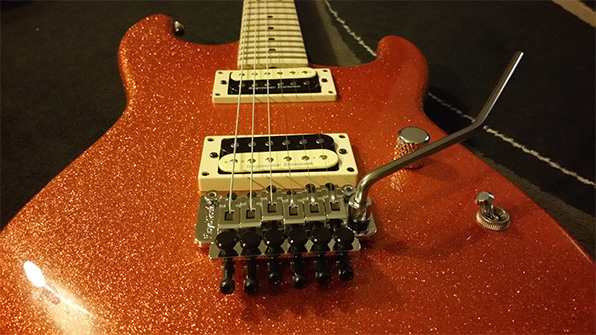 Overall I'm really pleased with the SD1-FR. It's exactly what I wanted. Something that's nice to play clean which can also perform well with heavy distortion for some of the more modern metal stuff I like to play. I'm proud to be a Charvel owner again and will definitely be posting some videos in my
Facebook Group
in the coming months!
If you found this post helpful please leave a comment below: