One of the most memorable games I've ever played was
Deus Ex
, developed by
Ion Storm
and released in 2000 at a time when I was pretty new to PC gaming.
I have played it a few times through and one of the coolest aspects of the game was how you could play it in multiple ways.. you could kill enemies, tranquillise them or simply sneak by many of them and avoid detection. It had a decent story too but it was the gameplay that made it such a great game and is still to this day one of my favourite games.
Deus Ex: Human Revolution
has been in development for some years, it's the third in the series (after a decent
sequel
that wasn't as immersive as the original) and Eidos (who also published the earlier games in the series) will soon be releasing it. The game looks very cool and is definitely on my list to buy this year (probably for 360) and Eidos Montreal recently launched a
new site
dedicated to the game and also updated
their own site
with a new look to go along with it.
Soon after the new site launched I noticed a few things wrong with the site and sent some messages to Eidos people on Twitter. One thing I mentioned has been fixed (a French image was shown on the English site) but a few other things I mentioned are still the same. So I decided I'd email them but with no particular email address to send it to I just CCd in a few and sent the following email in the hope that they take notice and attempt to fix their site:
Subject: Problem with website's design
To: marketingpr@eidosmontreal.com
Cc: webmaster@eidosmontreal.com (bounced, no such address)
Cc: info@eidosmontreal.com

Hi,

Just wanted to report an issue with the site's design. I sent a message on twitter but got no response so wasn't sure if it has been passed on.

Basically the issue is that the site is clearly designed to accomodate for users with 1024x768 monitors (since it's less than a thousand pixels wide), but the site doesn't auto position itself at that screen resolution. This is because the entire site is wrapped in a 1280 pixel wide container. Technically that means it doesn't even center itself in 1280 as it doesn't take the vertical scrollbar in to account. If viewed at 1024x768 you get a large empty bar down the left and the rest of the site is cut off on the right side of the screen.

It's clear to see from the site's CSS where the width is being applied to this container div and should be an easy fix. I've attached screenshots of how the site looks in 1280x1024 and 1024x768 so you can see the problem. I might also mention that this makes the site render incorrectly in mobile devices (I tried an iPod, WP7 and Blackberry). In some it has large blank spaces down the sides of the site (as it thinks the 1280 container should be displayed on screen) and on some it just renders partially off-screen as it does on a PC in 1024x768).

I'm a professional web developer myself and I specifically take pride in developing sites that are usable and accessible for as many users as possible. I have to say that I love the new site and it looks very flashy but this problem must be affecting many of your visitors who use lower resolutions and mobile devices.

I also tweeted about another minor issue which just makes the site look unprofessional; the line-height or margins seem to have been altered on all the body text to push the lines of text closer together, however this has cut off the bottom row of pixels from characters such as g, y and q. I've attached a screenshot of that too (and just noticed a spelling/grammar mistake on the 'Our Studio' page).

I'm happy to say that one of my suggestions was fixed, I noticed the English version of the site had a French twitter button shortly after it went live but that was quickly sorted out.

I hope you can pass this on to whoever is responsible for managing the website so they can make the quick easy fixes for the problems I've pointed out.

Best regards,

Martin
To me, as a professional web developer I'm amazed that a company like Eidos have not tested their site in every way possible before launching it. Hopefully they'll pass on my notes to the people in charge of the site's development and I'll update this post if I hear anything back from them or notice they've fixed the issues. Below are the images I attached to the email to show them the main problem of the container width and the missing pixels on under-the-line characters: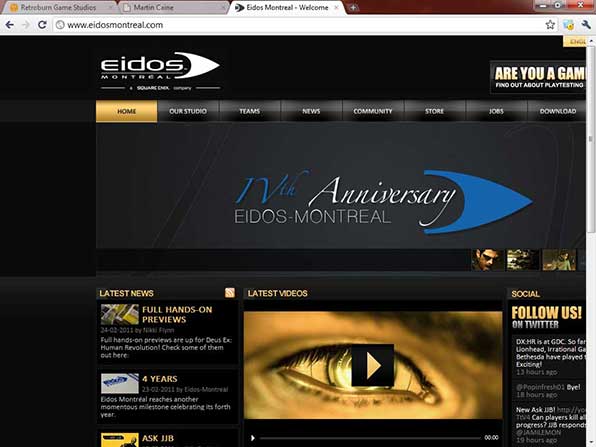 I know to some people this will seem irrelevant but I really do think these are important issues that Eidos Montreal should fix. I have to admit I do notice problems like this on websites for major companies quite often and unfortunately it takes a while for some of these companies to do anything about it.
If you found this post helpful please leave a comment below: